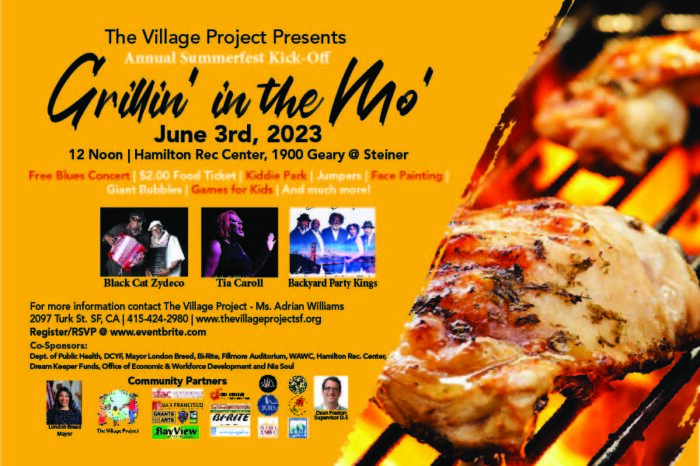 Grillin' in the 'Mo" is Back in Person!

What: This year's Summer Fest Kick-Off is co-sponsored by San Francisco Rec & Park, SF Police Department and District 5 Supervisor Dean Preston, Grants For The Arts, DCYF, Office of Economic & Workforce Development and the SF Housing Development Corp. Community partners who have consistently supported the Village Project's efforts are The Fillmore Center Apartments, Episcopal Charities, The Bayview Newspaper, KPOO, Jewish Community High School of the Bay, KPIX, MoMagic, Miyako Ice Cream, St. Cyprian's Episcopal Church, Nia Soul Catering, Bi-Rite Markets, Bill Graham Memorial Foundation, The Fillmore Auditorium, Charlie's Pharmacy, Hamilton Rec Center, Village Project Advisory Board, Africana Studies – San Francisco State and DCYF.
When: Saturday, June 3, 2023; 12:00 Noon to 6 p.m.
Where: Hamilton Recreation Center, 1900 Geary @ Steiner
Cost: Free
Why: The Annual "Summer Fest Kick-Off showcases the historical Fillmore Jazz District more importantly, it has become an integral part of The Village Project's summer enrichment camp, which provides a safe haven for youth to learn, grow and enjoy fun activities during the summer months.
Adrian Williams is Executive Director and founder of the Village Project, a service organization focusing on education and cultural enrichment programs for youth and their families in the Western Addition. The Village Project produces family events, including an annual Kwanzaa Celebration (Dec. 26 – Jan 1), "A Senior Moment" – A Senior Prom for the 50+ and most recently, Mardi Gras San Francisco Style/ Fat Tuesday in the Fillmore held on March 1st. "In keeping with The Village Project's mission of strengthening families and community, we will continue to partner and produce these quality events, which serve to connect the neighborhoods and families of San Francisco", states Executive Director, Adrian Williams.
NOTE: The Village Project will sponsor its all-day Summer Enrichment Camp, starting June 12th. The camp is free, and is located at St. Cyprian's Episcopal Church, 2097 Turk Street. For more information or to donate, visit www.thevillageprojectsf.org. The camp will run from June 12th – August 4th for youth K to 12.
We need volunteers on the day of the event and donations. Please contact Adrian @ 415-424-2980 or visit our web site: www.thevillageprojectsf.org