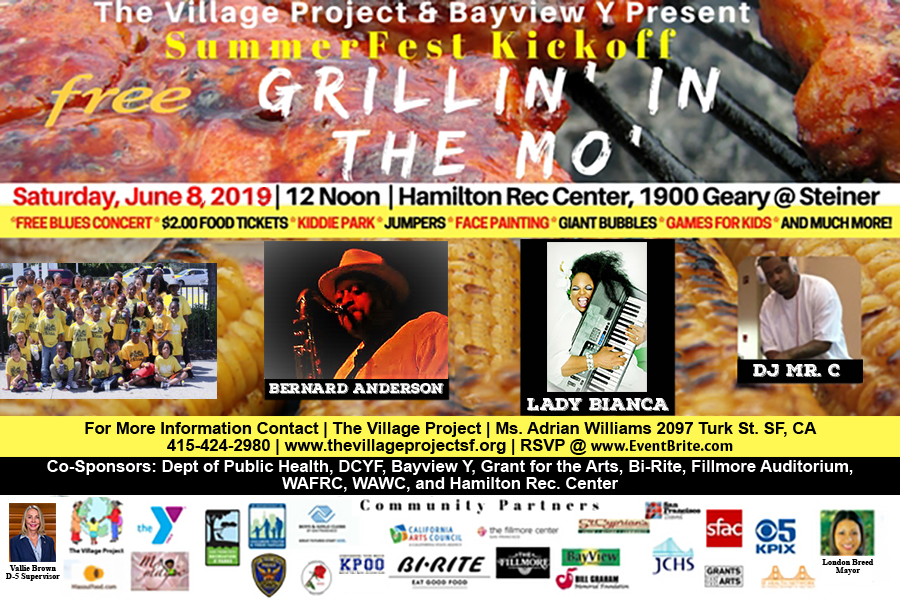 Grillin; in the MO': Annual Fillmore Summer Fest Kick-Off
Saturday, June 8th @ 12 Noon
June 10th – August 2nd, for youth 5 to 17 years old
What: Bernard Anderson and Lady Bianca will headline this year's Grillin' in the 'Mo at Hamilton Recreation Center on June 8th. The annual Fillmore Summer Fest Kick-Off is a free blues concert and family BBQ celebrating the start of summer events in the Fillmore District and summer enrichment programs for Western Addition youth. Bring your family, a big appetite, a blanket and prepare yourself for a day of community connectedness. Grab some food, fly kites or make gigantic bubbles and enjoy some down-home blues. Soulful hits will be spinning all day by DJ, Mr. "C" to get you jamming on the dance floor. Kids will enjoy youth activities in our kid's zone, i.e. face painting, cotton candy, jumpers, & bubbles. Grillin in the 'Mo is our Summer Fest Kick-Off, a day to spend with family & community.
When:  Saturday, June 8th @ 12 Noon
June 10th – August 2nd, for youth 5 to 17 years old
Where: Hamilton Recreation Center, 1900 Geary @ Steiner
Cost: Free
Who: Fillmore's Summer Fest Kick-Off, Grillin' in the 'MO' is produced by The Village Project, in collaboration with the Bayview YMCA, Western Addition Family Resource Center, Bi-Rite Markets, The Fillmore Auditorium, San Francisco Rec & Park, Hamilton Recreation Center, MoMagic, The Bayview Newspaper, The Fillmore Center Apartments, Nia Soul Catering, St. Cyprian's Episcopal Church, The Western Addition Wellness Coalition, SF Police Dept. and The Boys & Girls Clubs of San Francisco. This project is partially funded by the Dept. of Public Health, Bayview YMCS, DCYF and Grant For the Arts.
Adrian Williams is Executive Director and founder of the Village Project, a service organization focusing on education and cultural enrichment programs for youth and their families in the Western Addition. The Village Project produces family events, including last year's 12th annual Kwanzaa Celebration (Dec. 26 – Jan 1), "A Senior Moment – A Senior Prom for the 50+ and most recently, Mardi Gras San Francisco Style/ Fat Tuesday in the Fillmore. "In keeping with our mission of strengthening families and community, we will continue to partner and produce these quality events, which serve to connect the neighborhoods and families of San Francisco", stated Ms. Williams, who is a recent Jefferson Award Recipient.
NOTE: The Village Project will sponsor its 13th all day Summer Enrichment Camp, starting June10th.  The camp is free, and is located at St. Cyprian's Episcopal Church, 2097 Turk Street.  For more information or to donate, visit www.thevillageprojectsf.org.  The camp will run from June 10th – August 2nd for youth 5 to 17 years old.
We need volunteers on the day of the event and donations. Please contact Adrian @ 415-424-2980 or visit our web site: www.thevillageprojectsf.org