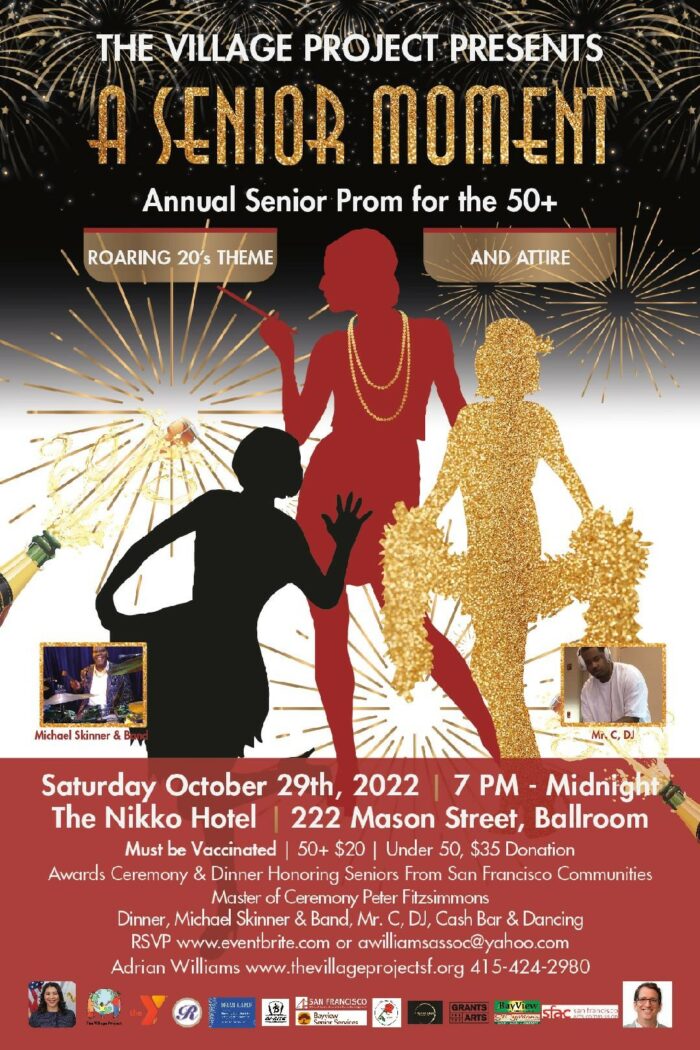 A Senior Moment, Annual Senior Prom for the 50+
What:  SAN FRANCISCO:   Join the Village Project on Saturday, October 29th, for our annual "A Senior Moment, A Senior Prom for the 50+" at Hotel Nikko. We are back in person! This awards dinner recognizes outstanding seniors for their contributions and dedication to serving their communities. This year's honorees are Dr. Sheryl Davis, SF Human Rights Commission; David Sorbel, SF Housing Development Corp; Malik Seneferu, Artist; Nicola Fleming, OEWD; Clint Sockwell, Kwanzaa, San Francisco; Henry Randolph, SF/Marin Food Bank; Classie Kendrick, George E. Davis Senior Center and Renaissance Parents of Success. All honorees have worked diligently to enhance the lives of our youth, seniors, families and the City of San Francisco. A special thanks to Mayor London Breed and District 5 Supervisor, Dean Preston for their continued support of this annual celebration. After the awards presentations, starting at 7 pm, guests will satisfy their palates with a delectable dinner, followed by some "down home" blues, performed by Michael Skinner and Band. Of course, DJ, "Mr. C", will be on hand, spinning his oldies- but goodies from the 50's, 60's, 70's and 80's. Join us for "A Senior Prom for the 50 +" and enjoy some good blues, tantalizing food, no host bar and plenty of community connectedness. MUST BE VACCINATED IN ORDER TO ATTEND!
When:  Saturday, October 29, 2022 @ 7 pm
Where:  Hotel Nikko, 222 Mason Street, San Francisco
Cost: 
$20 to $35 (includes dinner, awards ceremony, blues Band, DJ, no-host bar
RSVP/Tickets at www.eventbrite.comhttps://www.eventbrite.com/e/a-senior-moment-annual-senior-prom-for-the-50-tickets-431251052507
Who:
Adrian Williams is Executive Director and founder of the Village Project, a service organization focusing on education and cultural enrichment programs for youth and their families in the Western Addition. The Village Project produces family events, including the annual Kwanzaa Celebration (Dec. 26 – Jan 1), "A Senior Moment – A Senior Prom for the 50+, Mardi Gras San Francisco Style/ Fat Tuesday in the Fillmore and Grillin' in the Mo'. In keeping with our mission of strengthening families and community, we will continue to partner and produce these quality events, which serve to connect the neighborhoods and families of San Francisco.
For more info, please contact Adrian @ 415-424-2980 or visit our website:   www.thevillageprojectsf.org